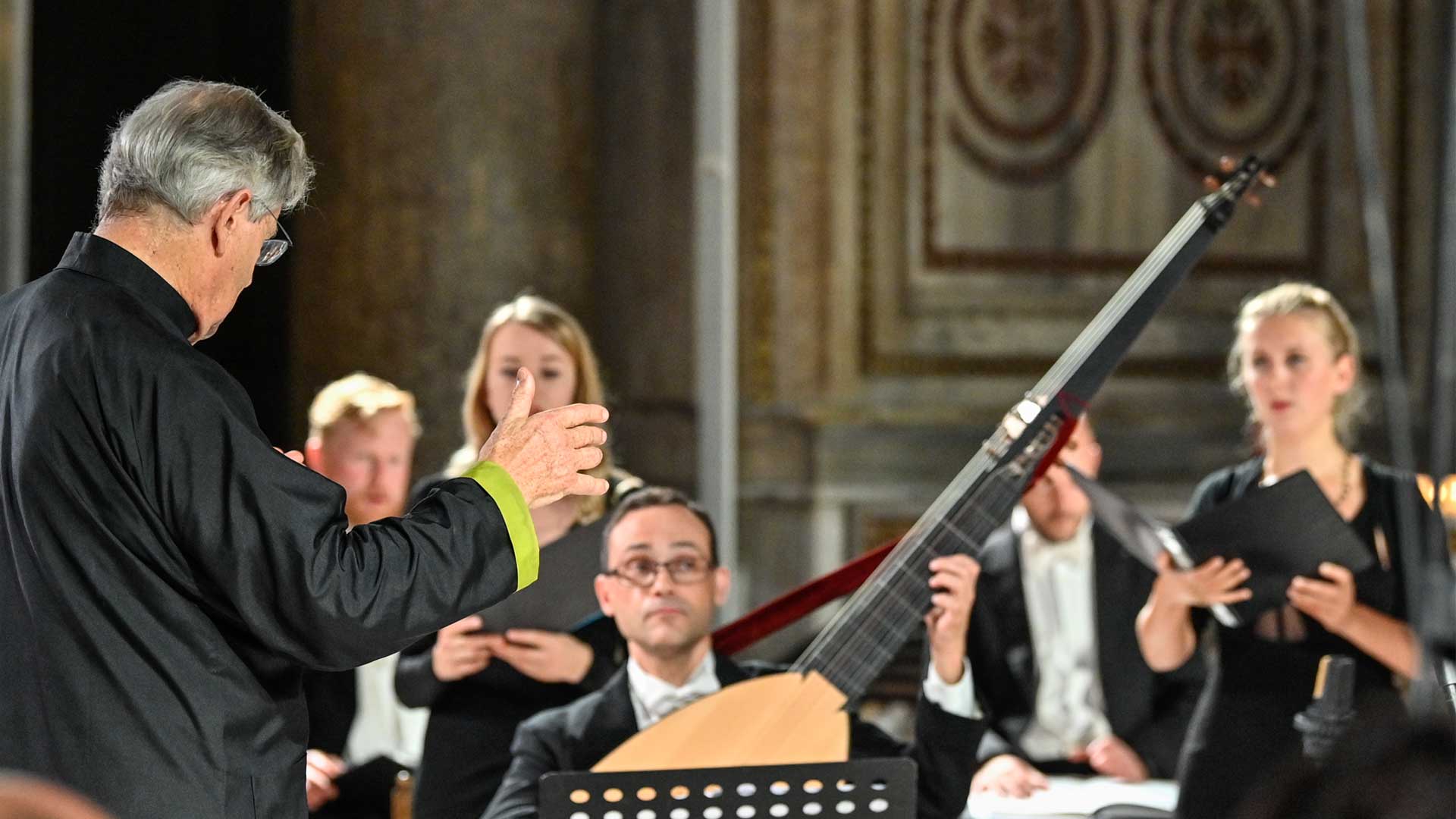 Sir John Eliot Gardiner is, quite literally an inspiration. He breathes music into his players and singers with wondrous results. As someone said to me afterwards it would have been worth the ticket price just for the Conquassabit passage in Handel's Dixit Dominus – with its dramatic announcement pause and then a whole series of superbly articulated, staccato entries. It was an edge of the seat moment. And Sir John achieves all this without fuss or flamboyance – just fluidity of the wrists, mouthing the words and the unfussy force of personality. This, astonishingly, was his 60th appearance at the Proms.
The concert began with Handel's Donna, che in ciel, an early cantata probably written in 1707 for a thanksgiving service to mark Rome's having escaped damage from the terrible 1703 earthquakes in central Italy. It was new to me, and I suspect, to many of the Proms audience. Scored for solo alto (Ann Hallenberg in this performance) and string orchestra it has some very memorable sections such as the simple but mesmerising Tu sei la bella. Hallenberg, who can scoop out wine-dark low notes as well as sailing gloriously through high ones, found drama, passion and excitement in the piece. Some of it went so fast – Sorga pure dall'irrodo averno, for instance – that it was almost like a Rossini patter song and I was struck, yet again, by the innate musicality of the Italian language. Handel contrasts these passages with lyrical legato ones and Hallenberg compelled you to pay attention to every note.
And then we turned to Bach for Christ lag in Todes Banden, This, like Donna, che in ciel, was written in 1707. With a neat parallel, both composers were 22 that year. As for the opening work, Eliot Gardiner had violas on the outside with cellos at 2 o'clock from the rostrum. After a momentarily ragged start we were bombarded with contrasts and ideas including some delightful chorus duets between different sections. The basses bringing warm passion to the long dark brown notes echoing out over the strings in Hier ist das rechte Osterlamm was a particular high spot.
After the interval Handel's Dixit Dominus was much more familiar territory and the orchestra had moved round with second violins now on the outside and soloists emerging from within the ranks of the choir. It was a treat to hear it sung with such sensitivity and panache – anyone who's ever tried to sing Dixit Dominus in, say, a local choral society will know just how difficult it is with so many subsections and rapid passages interspersed with lyricism (was Messiah already in Handel's head?) but this performance was masterly.
Apart from the arresting Conquassabit moments to treasure included Julia Doyle and Emily Owen (and chorus) singing De Torrente in via bibet with such vibrant emotion that Eliot Gardiner gave it to us a second time as an encore in acknowledgement of the rapturous applause at the end.
On a trivial note, understated as Sir John Eliot Gardiner is, he clearly doesn't mind a tiny touch of tasteful, theatrical fun. I loved the scarlet cuffs on his velvet jacket which moved, fell and caught the light as he conjured all that magic with his hands.
First published by Lark Reviews: https://www.larkreviews.co.uk/?p=6613