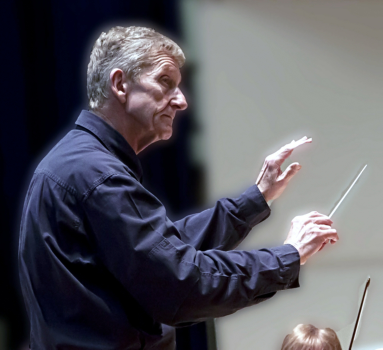 Cheerful Rossini is a good, warm antidote when the weather's wintry and we've just, two hours earlier, heard yet another alarming Covid press briefing. Brian Wright packed The Italian Girl in Algiers with all the fun and wit it cries out for especially through precise pizzicato, well controlled Rossini trademark accelerando passages and some lovely flute solo work (bravo principal flute, Anna Binney)
Then came the quiet modesty of Oliver Stankiewicz with Mozart's Oboe concerto – we hear the flute version more often but, actually, it was written first for the oboe. Stankiewicz, principal oboe with London Symphony Orchestra and with a flourishing parallel solo career, enchanted an MSO audience four years ago with the Strauss concerto so it was a treat to see him back.
I loved his incisive creaminess of tone, especially in the adagio – one of Mozart's many exquisite slow movements. In contrast he gave us lots of cheerful perkiness in the concluding rondo. His circular breathing is so fascinating to watch, that it's almost a distraction particularly in his encore: two short movements (Pan and Arethusa) from Britten's Metamorphoses.
In many ways, however, the most interesting work came after the interval in the shape of Brahms Serenade No 1, a substantial forty minute work. It's very familiar from recordings and radio. But I had never heard it live before and Brian Wright told the audience that, at 75, this was the first time he'd ever conducted it in public. Perhaps because it has six movements, not thematically linked, it doesn't feel like a symphony. Or maybe it's because it explores different styles as it goes along. Either way it doesn't get many outings. And it should.
It was, therefore, a real pleasure to hear MSO helping to put that right. The performance took a while to settle. I'm guessing most players hadn't played it before. The most striking thing about the opening allegro was the pleasing work – rich and tuneful – from lower strings and although, it was arguably a bit understated, I liked the way the dance rhythms in the first scherzo were played. Then in the very "Brahmsian" central andante we got some gloriously strong sound from brass and woodwind although the upper string interjections were a bit wispy. The finest moment, for me, was the chirpy oboe (David Montague) and bassoon (Philip Le Bas) duet in the minuet before the work sauntered off to give us a vibrant second scherzo and a resounding Rondo allegro to finish.
Give it a couple of years, MSO, and then play it again, please. We need to hear this interesting piece more often.
First published by Lark Reviews: https://www.larkreviews.co.uk/?p=6727